Delight in Exciting Phuket Attractions
Phuket, Thailand, is a treasure trove of captivating attractions that offer a delightful blend of natural beauty, cultural heritage, and unforgettable experiences. Whether you're seeking adventure, cultural immersion, or simply relaxation, Phuket has something for everyone. In this article, we'll explore the top 10 Phuket attractions you don't want to miss, with a special highlight on the enchanting Siam Niramit Phuket Show.
Siam Niramit Phuket Show
One of the must-see Phuket attractions. A visit to Phuket wouldn't be complete without experiencing the spectacular cultural extravaganza Siam Niramit Phuket Show. It is regarded as one of the best shows in the world by the Pacific Asia Travel Association and Thailand Tourism Award. A true celebration of Thai arts and culture that will leave you awe-inspired. Prepare to be transported through time as this production is set on a gigantic stage with elaborate sets, state-of-the-art technology to create amazing special effects. The show takes you on a mesmerizing journey through Thai mythology, history, and traditions.
With a focus on authenticity and attention to detail and over 100 performers, The Siam Niramit Phuket Show weaves together captivating storytelling, stunning choreography, vibrant costumes to bring Thailand's cultural heritage to life. Be enthralled by the excitement and the immersive atmosphere created by this award-winning show.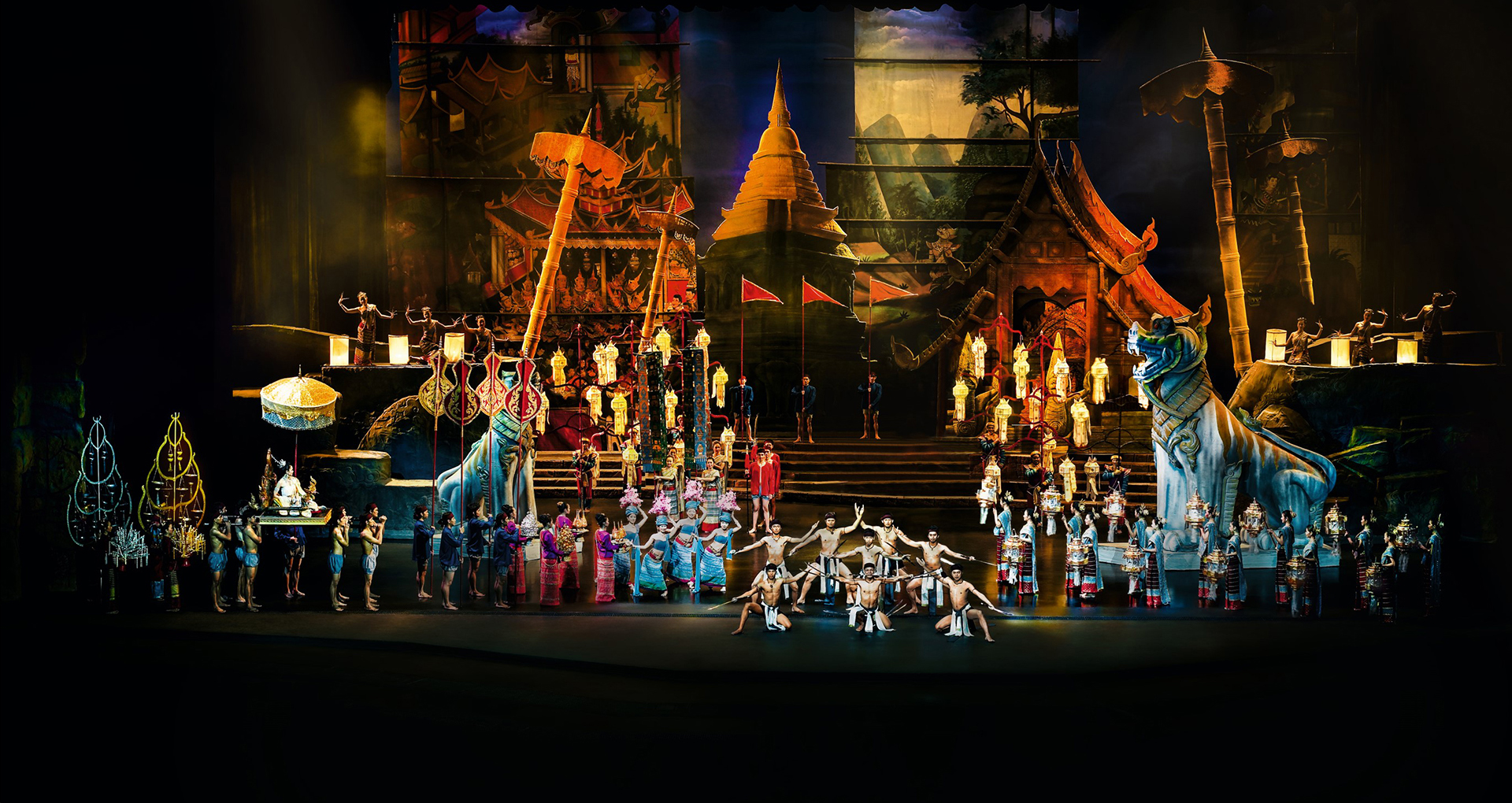 Location: https://goo.gl/maps/wwyY1oZEqsCAFvJU9
Website: https://www.siamniramitphuket.com
Email: infophuket@siamniramit.com
Phone: +66 7633 5000
Operation Hours: 17:30PM to 22:30PM
Price: Starting from 1,800 baht
Phang Nga Bay and James Bond Island
Embark on a memorable adventure to Phang Nga Bay, a breathtaking natural wonder just a short distance from Phuket. Cruise through the emerald-green waters, surrounded by towering limestone karsts that rise dramatically from the sea. Explore hidden lagoons, stunning caves, and picturesque islands that dot the bay. Among the highlights is James Bond Island, made famous by its appearance in the movie "The Man with the Golden Gun." Take in the panoramic views, explore the limestone caves, and capture stunning photographs of this iconic landmark.
While there's no direct connection from Phuket to Phang Nga Bay, you can take the Blue songthaew buses to Phuket Bang Rong Pier, then catch a ferry to Manoh Pier on Koh Yao Noi before reaching Phang Nga Bay. There is a bus from Phuket Town to Phuket Bang Rong Pier runs roughly every 30 minutes, costing around 30 – 50 baht, and the journey takes an hour. The ferry ride from Bang Rong Pier to Manoh Pier takes about 30 minutes, departing every 4 hours and costing around 500 baht.
Our most recommended period to visit Phang Nga Bay is from mid-October to April. The weather is sunny with little rainfall, cooler temperatures, and less humidity, especially compared to December and January. However, this is also when most visitors head to Phang Nga Bay's pristine waters and beaches. To avoid the crowds, consider visiting in the early morning or late evening. The best way to explore Phang Nga Bay is through organized tours, with full-day and half-day options available from Krabi, Phuket, and Khao Lak. Most tours follow a similar route, highlighting attractions like James Bond Island and the fishing village of Ko Panyi. Typically, you'll navigate the bay by boat, with opportunities to swim at secluded beaches or kayak around limestone formations and sea caves.
Location: https://goo.gl/maps/DQnqnq8bwYToTMTd7
Bus time: Song-thaews leave roughly every 30 minutes from 06:00AM to 18:00PM, and a ride costs 30 to 50 baht.
Ferry time: Ferries leave roughly every 30 minutes. First departure is at 8:40AM and last departure is at 15:00PM. Prices range around 400-500 baht.
Phi Phi Islands
Embark on a boat tour to the world-famous Phi Phi Islands, a tropical paradise that will leave you in awe of its beauty. Marvel at the crystal-clear turquoise waters, towering limestone cliffs, and pristine white sandy beaches. Go snorkeling or diving to explore the vibrant coral reefs and encounter an abundance of marine life. This world-renowned Phuket attraction offers a serene escape where you can relax on secluded beaches, soak up the sun, and bask in the natural splendor that surrounds you.
Location: https://goo.gl/maps/T4ftmLBVmnpY59fx5
Ferry time: Ferries leave roughly every 2 hours. Earliest departure is at 8:30AM and the last departure is at 15:00PM. Prices range around 400-700 baht.
Old Phuket Town
Immerse yourself in the charm and history of Phuket by visiting Old Phuket Town. This vibrant district is adorned with well-preserved Sino-Portuguese buildings, colorful streets, and a lively atmosphere. Stroll along the quaint streets lined with cafes, boutique shops, and art galleries: Discover the rich cultural heritage as you explore temples, shrines, and museums that showcase Phuket's fascinating past. Don't forget to sample the local cuisine at the numerous eateries and street food stalls that offer a tantalizing array of flavors.
Location: https://goo.gl/maps/JUea6dVWqRvuPnHu9
Bus time: There is a bus that leaves Phuket Town from Phuket Bus Terminal on Phang Nga Road and stops at Sengho Bookstore on Montri Road, allowing for an easy walk to Old Phuket Town. The first bus departs at 5:00AM and the last departs at 7:00PM. Buses operate every hour. Fares vary between 30 to 100 THB depending on distance. Cash is accepted on all buses.
Big Buddha
Make your way to one of the most iconic Phuket attractions: Big Buddha, a revered landmark that dominates the Phuket skyline. Perched atop Nakkerd Hill, this majestic statue stands at an impressive 45 meters tall. Take a moment to admire the breathtaking views of Phuket and its surrounding areas from this elevated vantage point. The serene atmosphere and the spiritual significance of the Big Buddha make it a perfect spot for reflection and inner peace.
Location: https://goo.gl/maps/WWyujuRMELZWvkAc9
Operation Hours: 08:00AM–18:00PM
Price: Visiting the Big Buddha is completely free, but we suggest making a donation to their contribution box as a thoughtful gesture since the monument was constructed solely through charitable offerings.
Wat Chalong
Visit Wat Chalong, Phuket's most important and revered Buddhist temple. This beautifully decorated temple is a spiritual center for the local community and a popular attraction for visitors. Explore the intricate architecture, ornate decorations, and colorful murals that adorn the temple's halls. Pay your respects at the main pagoda, where you'll find a fragment of bone from Buddha himself. Wat Chalong offers a serene atmosphere for contemplation and insight into Thai Buddhist traditions.
Location: https://goo.gl/maps/GXD8NcPEYL6r7rhY6
Operation Hours: 08:00AM–18:00PM
Price: Free
Phuket Elephant Sanctuary
Experience an ethical and responsible interaction with elephants at the Phuket Elephant Sanctuary. This rescue and rehabilitation center provides a safe haven for retired elephants, allowing them to live freely and peacefully in their natural habitat. Gain a deeper understanding of these gentle giants as you observe them roaming, bathing, and socializing. Learn about the challenges they face and the importance of elephant conservation efforts. A visit to the Phuket Elephant Sanctuary offers a unique and unforgettable opportunity to connect with these magnificent creatures
Location: https://goo.gl/maps/rAQJB19feGbkZ4Vs5
Operation Hours: 09:30 AM–13:00PM and 13:30PM–17:00PM
Price: 799 - 2,500 baht depending on the package
Bangla Road
Bangla Road is renowned as a vibrant street located in the heart of Patong Beach, Phuket. It's widely recognized as the epicenter of the island's nightlife and entertainment scene, drawing visitors from around the world for its energetic atmosphere, diverse offerings, and lively ambiance.
Stretching for about 400 meters, Bangla Road comes alive as the sun sets, transforming into a bustling pedestrian street lined with a multitude of bars, clubs, restaurants, street vendors, and entertainment venues. The road is closed to vehicular traffic during the evening hours, allowing pedestrians to freely explore the various attractions. It is a must-visit destination for those looking to experience the vibrant side of Phuket after dark.
Location: https://goo.gl/maps/WCs1SBJd9Yy1JPvs5
Operation Hours: 18:00PM until late
Andamanda Phuket Water Park
Have a splash at Amdamanda Phuket Water Park! Covering a vast expanse of approximately 100,000 square meters, Andamanda Phuket Water Park is a playground for both adventure seekers and those looking to experience the essence of Thailand's heritage. The park is designed to transport visitors to a world where the mysteries of the Andaman Sea and Thai legends come to life From thrilling water slides that offer heart-pounding drops to lazy rivers for a more relaxed experience, the park caters to visitors of all ages and preferences.
Location: https://goo.gl/maps/ggqDGDo8A6tTLaTa7
Website: https://www.andamandaphuket.com/
Operation Hours: 10:00AM–19:00PM
Price: Starting from 1,500 baht depending on the package
The Upside-Down House
The Upside Down House stands as one of Phuket's essential and highly frequented tourist destinations. This unique gem captures the title of the quirkiest attraction in Phuket, beckoning all ages to partake in its captivating charm. From families to couples and groups of friends, its appeal spans across the board. Prepare to unleash your creativity as you capture mind-bending photos and videos within its topsy-turvy walls. The excitement doesn't stop there; the experience extends to The Garden Maze, The Room Escape Game, and a variety of other thrilling activities at the Fun Park.
Location: https://goo.gl/maps/hzSRdezZ1vQPX8XF9
Website: https://upsidedownhouse-phuket.com/
Operation Hours: 10:00 AM–18:00PM
Price: Prices range from 240 baht (for kids) to 470 baht (for adults)
Embarking to Your First Phuket Attraction
Phuket is a destination that offers a diverse range of attractions to suit every traveler's taste. From the enchanting Siam Niramit Phuket Show, which immerses you in Thai culture and history, to the stunning natural landscapes of Phang Nga Bay, James Bond Island, and Phi Phi Islands, there is an abundance of experiences waiting to be discovered. Whether you're seeking cultural immersion, natural beauty, or thrilling adventures, Phuket will captivate you with its charm, warmth, and rich tapestry of attractions.
So, pack your bags and embark on a journey to our top 10 Phuket attractions and discover places where vibrant traditions, awe- inspiring landscapes, and unforgettable memories await.